Memorial Day Mattress Sales Event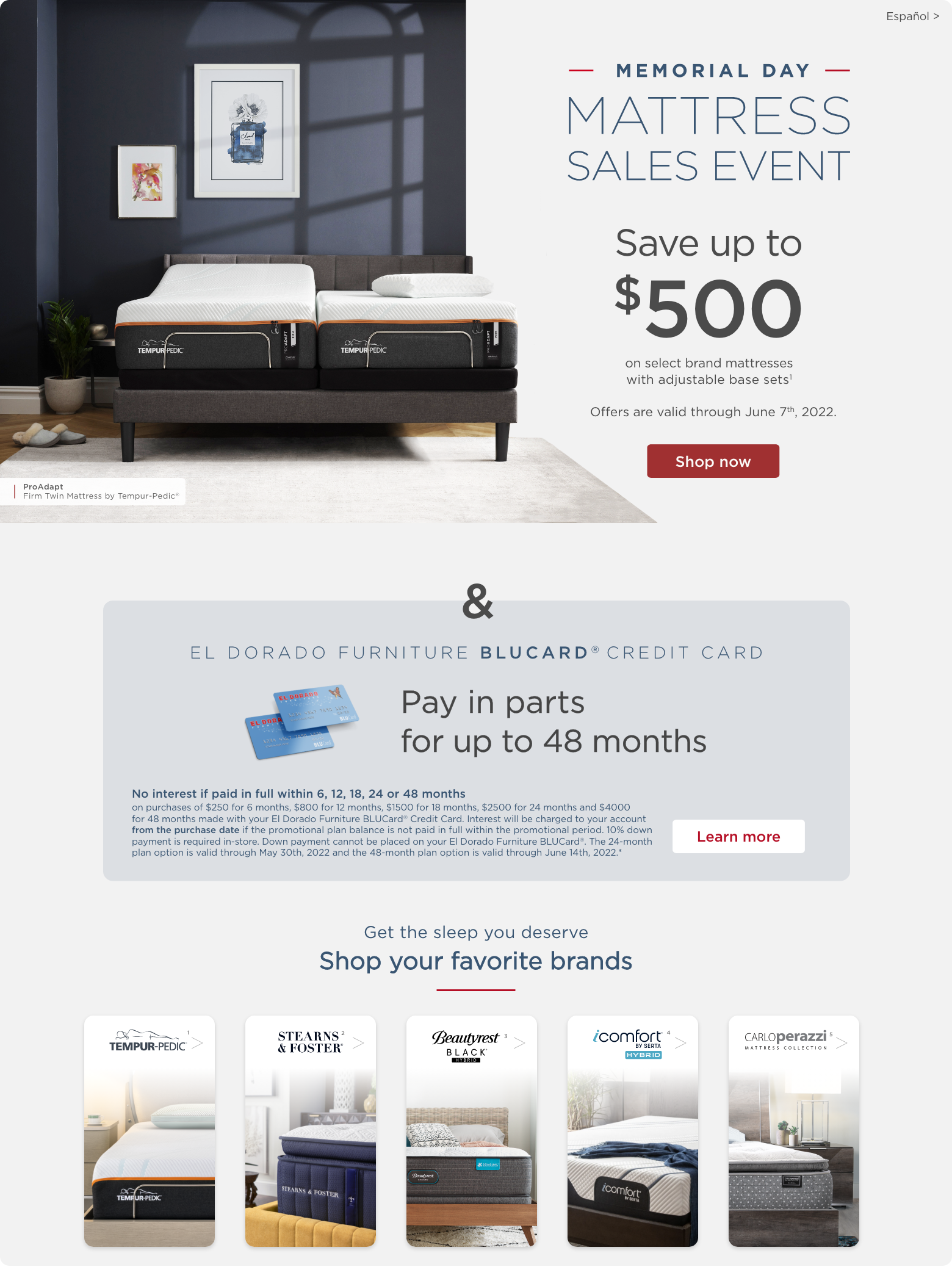 1 Tempur-Pedic® - Save up to $500 on select mattresses with adjustable base sets. Maximum of $500 in savings requires purchase of TEMPUR-LUXEbreeze® or TEMPUR-PRObreeze® mattresses and TEMPUR-ERGO® Extend smart bases. Save $300 on TEMPUR-LUXEbreeze® and TEMPUR-PRObreeze® mattresses or $200 on Tempur-ProAdapt®, TEMPUR-LuxeAdapt® and TEMPUR-Adapt® mattresses. Save $200 on TEMPUR-ERGO® Extend smart base or $100 on TEMPUR-ERGO® adjustable bases. Discounts apply to the following mattress models: TEMP-58, 59, 60, 61, 68, 70, 71, 73, 74 & 76 and adjustable base models: TEMP-62 & 63.»
AND
$300 Instant Savings on Bedding Accessories with the purchase of any Tempur-Pedic® mattress plus any brand foundations or TEMPUR-ERGO® adjustable base(s). Bedding accessories include all brand mattress protectors and/or brand sleep pillows. Any unused amount will be forfeited. Use promo code: 2TP»
2 Stearns & Foster® - Save up to $600 on select mattresses with adjustable base sets. Maximum of $600 in savings requires purchase of Stearns & Foster® RockWell-EPT or Cassatt-TT mattresses and TEMPUR-ERGO® Extend smart bases. Save $400 on Stearns & Foster® RockWell-EPT and Cassatt-TT mattresses or $200 on Hurston-EPT and Hurston-TT mattresses. Save $200 on TEMPUR-ERGO® Extend smart bases or $100 on TEMPUR-ERGO® adjustable bases. Discounts apply to the following mattress models: STEF-48, 49, 50 & 51 and adjustable base models: TEMP-62 & 63.»
3 Beautyrest® by Simmons - Save up to $700 on select mattresses with adjustable base sets. Maximum of $700 in savings requires purchase of select Beautyrest Black® mattresses and Beautyrest Black® Luxury adjustable bases. Save up to $500 on select Beautyrest Black® mattresses, $400 on Beautyrest Black® Hybrid mattresses, up to $300 on select Beautyrest® Harmony LuxTM Hybrid mattresses or $200 on select Beautyrest Black® Harmony LuxTM mattresses. Save $200 on select Beautyrest Black® Luxury adjustable bases. Discounts apply to the following mattress models: SIMM-275, 279, 282, 283, 284, 289, 290, 291, 293, 294 & 295 and adjustable base models: SIMM-281.»
4 iComfort by Serta® - Save up to $800 on select mattresses with adjustable base sets. Maximum of $800 in savings requires purchase of select Serta® Arctic mattresses and Motion Essentials V adjustable bases. Save $400 on select Serta® Arctic Hybrid and Serta® Arctic Foam mattresses. Save up to $300 on select iComfort by Serta® Hybrid or iComfort by Serta® Foam mattresses. Save up to $400 on Motion Essentials V adjustable bases. Discounts apply to the following mattress models: SRTA-14, 15, 16, 18, 19, 20, 21, 25, 26 & 27 and adjustable base models: SRTA-100.»
5 CARLOperazzi® - Save up to $300 on select mattresses. Maximum of $300 in savings requires purchase of a CARLOperazzi® Karina iFlex mattress. Save up to $200 on CARLOperazzi® Genoa, Messina HB and Salermo HB mattresses or up to $100 on CARLOperazzi® Corvara and Caprice mattresses. Discounts apply to the following mattress models: SELS-CP11, CP12, CP13, CP16, CP19 & CP20. Offer applies to purchase of CARLOperazzi® mattresses priced at $799 or more.»
» All Mattress Offers:
Cannot be combined with any other offers except with the 6, 12, 18, 24 or 48-Month Deferred Interest finance plans or 60 Months Equal Payment finance plan, if you meet the minimum purchase required to qualify. Offers will not be re-issued if lost, stolen or destroyed, or with return/refund of merchandise. These offers are not valid and may not be used on gift card purchases, discounted floor sample merchandise, or at the El Dorado Furniture & Mattress Outlets. Discounts will be reflected at time of purchase. Customers are responsible for all taxes, delivery, and Smart Choice charges. These offers cannot be applied to previous purchases. Not all products will be on display at all locations. No substitutions allowed. Discounts are not stackable; discounts will be based on each individual mattress and adjustable base purchase.
El Dorado Furniture reserves the right to end these promotions at any time without prior notice. ©2022 All product names, logos, and brands are property of their respective owners.
*Deferred Interest, Payment Required plan: Interest will be charged to your Account from the purchase date if the promotional plan balance is not paid in full within the promotional period. Minimum payments are required for each Credit Plan. Minimum payments are NOT guaranteed to pay the promotional plan balance within the promotional period. You may have to pay more than the minimum payment to avoid accrued interest charges. Valid for single transaction only. If the single transaction has multiple shipments, each shipment may result in a separate Credit Plan, subject to a separate minimum purchase requirement and minimum interest charge. As of 05/2022, terms for new Accounts: Purchase APR of 29.99%. Minimum interest charge is $2 per Credit Plan in any billing period in which interest is due. Existing Cardholders: see your credit card agreement for Account terms.
Credit card offers are subject to credit approval.
El Dorado Furniture BLUCard® Credit Card Accounts are issued by Comenity Capital Bank.