Black Friday Mattress Sales Event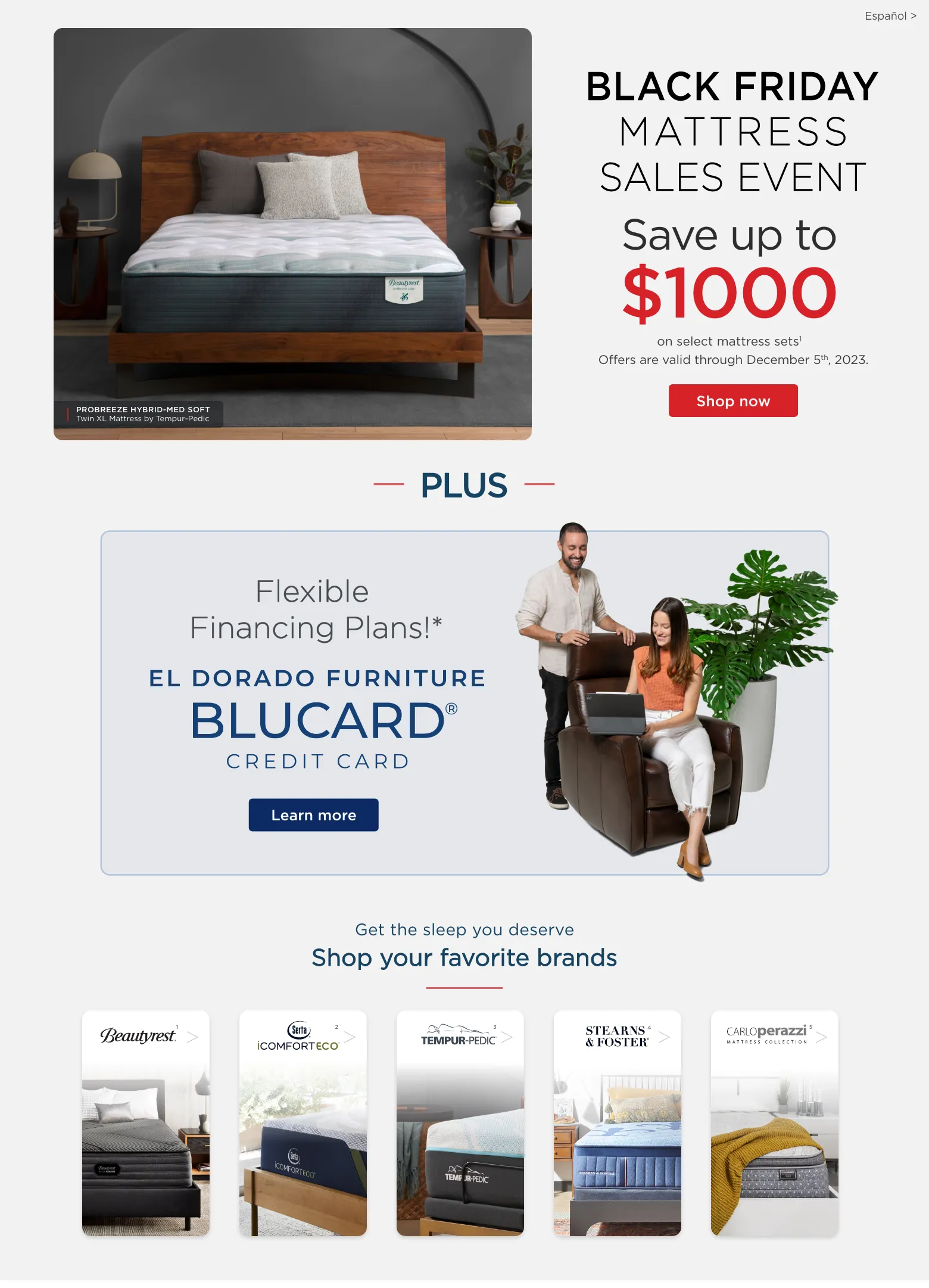 1 Beautyrest® by Simmons - Save up to $1000 on select mattress sets. Maximum of $1000 in savings requires purchase of select Beautyrest Black® Hybrid mattresses and Motion Perfect IV adjustable bases. Save up to $600 on select Beautyrest Black® Hybrid mattresses or save $300 on select Beautyrest Black® mattresses or save $200 on select Beautyrest® Harmony LuxTM mattresses. Save up to $400 on Motion Perfect IV adjustable bases. Discounts apply to the following mattress models: SIMM-296, 297, 298, 299, 300, 301, 306 & 307 and adjustable base models: SRTA-11.»
2 Serta® - Save up to $900 on select iComfort ECO by Serta® mattress sets plus get a free accessory bundle. Maximum of $900 in savings requires purchase of select iComfort ECO by Serta® Hybrid mattresses and Motion Perfect IV adjustable bases. Save up to $500 on select iComfort ECO by Serta® Hybrid mattresses or save $200 on iComfort ECO by Serta® Foam mattresses or save $100 on select Serta® Perfect Sleeper ® mattresses. Save up to $400 on Motion Perfect IV adjustable bases. Offer limited to one accessory bundle (SRTA-28), which includes two bed pillows, one sheet set and one mattress protector valued up to $399. Offer applies to the following mattress models: SRTA-29, 30, 31, 32, 33 & 34 and adjustable base models: SRTA-11. Use promo code: STA »
3Tempur-Pedic® - Save up to $500 on select mattress sets. Maximum of $500 in savings requires purchase of TEMPUR-LuxeBreeze®, TEMPUR-ProBreeze® or TEMPUR-LuxeAdapt® mattresses and TEMPUR-Ergo® ProSmart bases. Save $300 on the TEMPUR-LuxeBreeze®, TEMPUR-ProBreeze® and TEMPUR-LuxeAdapt® mattresses or $200 on select TEMPUR-ProAdapt® and TEMPUR-Adapt® mattresses. Save $200 on TEMPUR-Ergo® ProSmart bases or $100 on TEMPUR-Ergo® Power Bases. »
AND
$300 Instant Savings on Bedding Accessories with the purchase of any Tempur-Pedic® mattress plus any Tempur-Pedic foundations or TEMPUR-Ergo® Power Base(s). Bedding accessories include all brand mattress protectors and/or brand sleep pillows. Both promotions apply to the following mattress models: TEMP-58, 59, 60, 61, 68, 70, 71, 80, 81 & 82 and power base models: TEMP-79 & 89. Any unused amount will be forfeited. Use promo code: 2TP»
4Stearns & Foster® - Save up to $800 on select mattress sets. Maximum of $800 in savings requires purchase of select Stearns & Foster Reserve® or Stearns & Foster® Lux Hybrid mattresses and TEMPUR-Ergo® ProSmart bases. Save $600 on Stearns & Foster Reserve® and Stearns & Foster® Lux Hybrid mattresses, or $400 on Stearns & Foster® Lux Estate mattresses or $200 on Stearns & Foster® Estate mattresses. Save $200 on TEMPUR-Ergo® ProSmart bases or $100 on TEMPUR-Ergo® Power Bases. Discounts apply to the following mattress models: STEF-56, 57, 58, 59, 60 & 61 and power base models: TEMP-79 & 89.»
5 CARLOperazzi® - Save up to $500 on select mattress sets. Maximum of $500 in savings requires purchase of a CARLOperazzi® Elite collection mattress or CARLOperazzi® Karina iFlex mattress and a Donalie adjustable base. Save up to $300 on CARLOperazzi® Elite collection or CARLOperazzi® Karina iFlex mattresses, up to $200 on CARLOperazzi® Genoa, Messina HB and Salermo HB mattresses or up to $100 on CARLOperazzi® Corvara and Caprice mattresses. Save $200 on a Donalie adjustable base or $100 on a Legra adjustable base. Discounts apply to the following mattress models: SELS-CP11, CP12, CP13, CP16, CP19, CP20, CPE21, CPE24, CPE25 & CPE27 and adjustable base model: MOMO-10 & 11.»
» All Mattress Offers:
Cannot be combined with any other offers except with the 6, 12 or 24-Month Deferred Interest finance plans or 60 Months Equal Payment finance plan if you meet the minimum purchase required to qualify. Offers will not be re-issued if lost, stolen or destroyed, or with return/refund of merchandise. These offers are not valid and may not be used on gift card purchases, discounted floor sample merchandise, or at the El Dorado Furniture & Mattress Outlets. Discounts are not stackable; discounts will be based on each individual mattress and adjustable base purchase.
El Dorado Furniture reserves the right to end these promotions at any time without prior notice. ©2023 All product names, logos, and brands are property of their respective owners.
*Minimum payments are required for each Credit Plan. Valid for single transaction only. If the single transaction has multiple shipments, each shipment may result in a separate Credit Plan, subject to a separate minimum purchase requirement.
Credit card offers are subject to credit approval.
El Dorado Furniture BLUCard® Credit Card Accounts are issued by Comenity Capital Bank.