We don't mean to be the bearer of bad news but it's officially August and that means it's time for back to school shopping. I know, summer went by fast. This does not mean that getting ready for another school year is a bad thing; it gets your family back in the habit of everyday life after your kids' three-month vacation. For some of us, your daughter or son has graduated high school already and may be moving into their first dorm or apartment. Below you will find suggestions that we would love to share with you to help make this process easier for you and your family.
Beds
If your child is moving into a dorm, please disregard this first section as pretty much all universities include a twin XL bed and mattress. In the case that he or she is moving into an unfurnished apartment, finding the right bed is always a priority. Your son or daughter will be studying a lot so coming home to a comfortable bed after a long day is definitely important.
We suggest the Montauk Gray Platform Bed in either a twin or full size based on the space available. The natural solid pine wood construction with a distressed finish and plank accents signal a rustic and relaxing feel for the nights to come. Additionally, the simple look of this bed allows your kid to pick out any bedding they like.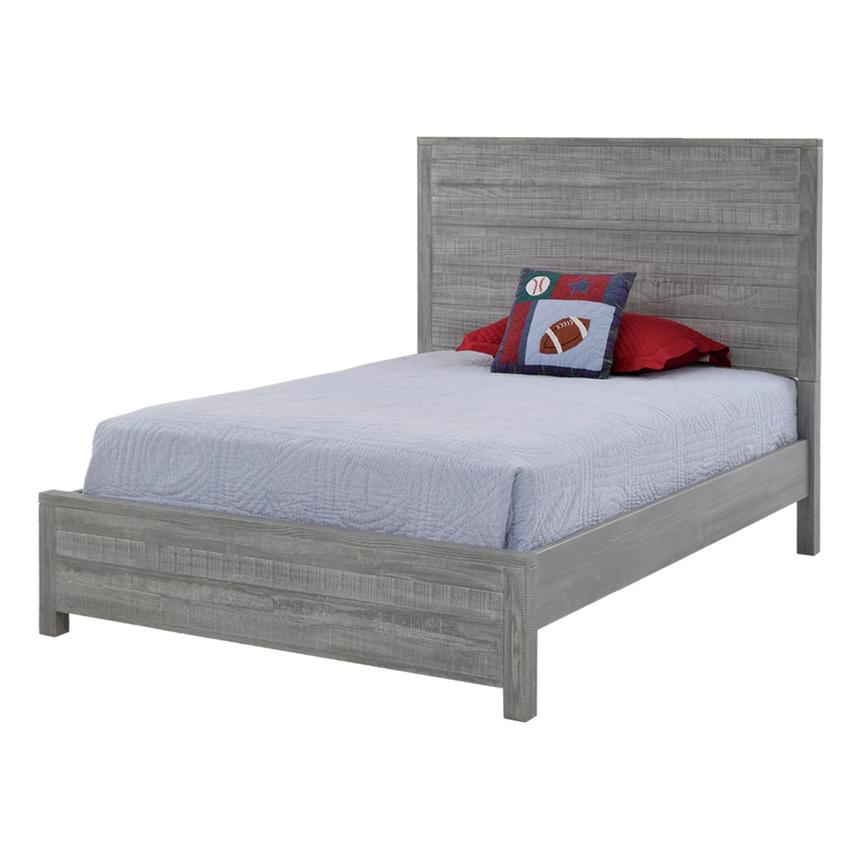 Another option to consider is the Lorraine Panel Bed because the size of this contemporary piece is ideal for small spaces such as a college apartment. This bed is made from chocolate brown rubberwood with a smooth feel while necessary comfort is complete with the tufted leatherette headboard after a long day of classes.
Desks
Another important piece of furniture to consider is a desk. If your child prefers studying in his or her room over the campus library, they will be spending a lot of time at their desk. Finding a functional desk is essential for their success. We have four recommendations that you will find below.
The narrow depth of the Cloy Desk is ideal for small spaces, making this piece perfect for a first dorm or apartment. It can be fit in any corner with a drop down front where your child can place writing utensils and store studying essentials in the two drawers and file space. The simple style of the light brown engineered wood construction with elm veneers is beneficial for pairing together other pieces of furniture.
The Preto Desk has a simple sleek design that can fit perfectly for back to school. This piece is constructed of engineered wood in black and light brown tones with powder coated metal legs for an efficient finish. The open space on the top of the desk and one storage drawer provide the fundamentals for your kid to get his or her work done in an organized manner.
The Ralf Desk w/Speakers is versatile for many different settings, making it a great addition to a dorm room or first apartment bedroom with a simple contemporary look of white engineered wood construction with smooth black glass accents. A pencil drawer, one shelf, and a regular sized drawer offer the storage your kid is looking for while the Bluetooth speakers and built-in electrical outlet are integral for full concentration. A studying playlist can be streamed easily.
Last but not least, the Mecca Console Table can be used as a desk due to its minimalistic design and size. The thick tempered glass top is a perfect set up as a laptop desk while the bent glass design creates a corner for a small space such as a dorm or apartment.
Office Chair
An office chair completes your kid's desk with full functionality in mind.
The Sunflower Gray Guest Chair is made of durable smoke gray polypropylene with a unique shape for a touch of character to a dorm or apartment. The chrome metal legs with floor protecting caps allow him or her to move the chair to any area of their living space for ideal productivity.
Side Table
Side tables have the dimensions and shape that can be used as a replacement of a traditional nightstand.
The Mission Side Table w/Casters' small size allows your child to use this piece beside their bed. This table is completely made of clear tempered glass with a sleek bent glass design. Additionally, the casters are perfect for moving this piece to any part of the dorm or apartment.
Lamp
Including a table lamp is important for extra lighting on your child's desk or side table for studying or relaxing.
The Logan Table Lamp fits right in with a smooth black body and an arm made of brushed stainless steel. The adjustable arm can be changed to any angle with a stunning glass shade for a modern finish.
Below, you will see a gif that puts together some of the pieces just mentioned. Because space in a college environment is limited, this will give you a better idea of a room combination for both a studying and sleeping space.
Accessories
Your child will definitely want to decorate his or her room, so adding a few accessories is always a good idea to personalize the space.
The Urchin Silver Table Décor adds a smooth glossy look with silver ceramic construction in a polygon shape. This can be placed on a desk or side table. In case your child has a small dining area, it can even be placed on the kitchen table.
The Travel Around Figure adds a scholarly feel with an updated version of the classic world globe on polished stainless steel with a silver finish. This piece can be rotated 360 degrees for placement on any desk or table.
The Duet Orange Table Décor is a fun addition for a pop of color to the room with blown glass construction in a tangerine orange with stunning silver highlight accents. It can be used as a part of your desk or bedroom décor.
Below, you will see how we put together some of the accessories mentioned for an accurate display of how to decorate your desk.
After reviewing each section above, we hope you have a better idea of where to start with back to school furnishings. We suggest starting with one section at a time to fully focus on the essential items that your child will need this fall. Please let us know what you think of our latest blog post by leaving a comment below! If you have any questions, please do not hesitate to contact us. We wish you the best of luck this month!